26 Reasons to be Ready for Fall
1. Pumpkin EVERYTHING
Perhaps the most infamous fall flavor of the last few years has been Pumpkin. One of the tell-tale signs that Fall is here (at least for businesses) is the addition of advertising with ultimate "would you like to try something Pumpkin flavored. This means, pumpkin beer for the beer drinkers, pumpkin lattes for the caffeine lovers, as well as pumpkin accents and undertones in fall-inspired meals for the foodies. Find your place in the grand scheme of this and indulge in the wholesome sweetness of the unique flavor of pumpkin! (And they accomplish this while still leaving enough for people to shower their homes with them!)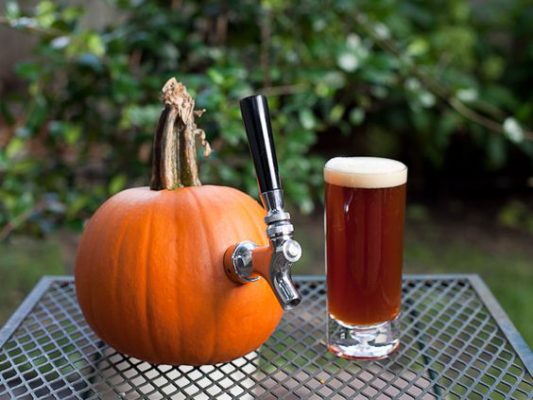 (via Serious Eats)        
2. Apple EVERYTHING
Not a fan of pumpkin? That's okay! Because apples are now (officially) in-season. From hard ciders, to apple pies, to… wait… apple pie fries!? NOM NOM NOM … Get in the spirit of this lovely piece of fall will find you enjoying a warm cinnamon apple crisper, candy apples, fall-style sangria, apple accented salads, paninis, and more!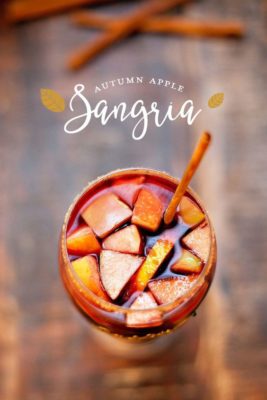 (Recipe via HWTM)
3. Scented Candles Make a Comeback
Firstly, scented candles are ALWAYS awesome–but with Fall comes colder weather, with colder weather comes more time spent inside, and more time spent inside means more time to burn those invigorating scented candles! Sweeter, cozy scents of apples, cinnamon, sage, and spiced pumpkin (to name the classics) will help you dive nose first into your first nostalgic leaf pile this year!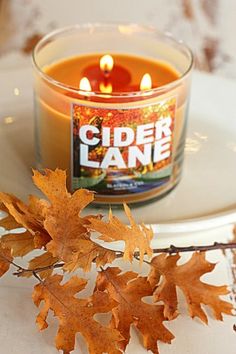 (via Sugar Pie Farmhouse)
4. Over-the-Top COOL Jack-o-Lanterns
Who could leave out the OG-Emojis: Jack-O-Lanterns. This is when every homeowner revisits their artistic prowess while others take to the pumpkin-streets to carve out with GOAT-level skill. Seriously? Where do these people come? Halloween Town? Because we want to visit!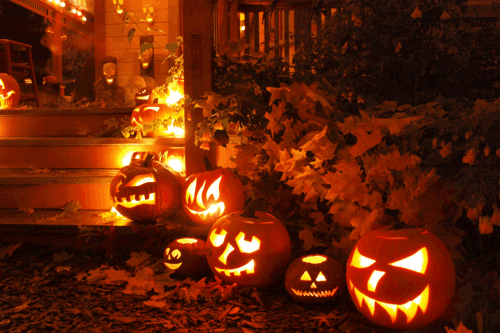 (via Giphy)
5. Hoodies
This is SO important–and, just to be clear, we're talking about that one sweatshirt you could put over anything and feel great about… But we think there's nothing like rocking the classic-comfy (slightly over-sized) hoodie with jeans and boots when fall hits–people buy comforters to feel like that when they sleep!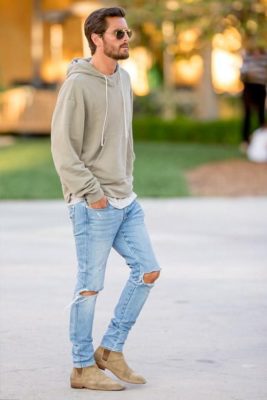 (via Star Style Man)
6. Taking the Ice out of Coffee
Here's a true indicator of how you acknowledged it's Fall for you on a personal level: you ordered that drink HOT–and even enjoyed holding its "just-hot-enough" cup as the warmness of the first sip spreads through your chest and all you can manage is a soft, audible "mmm" as it hits your stomach.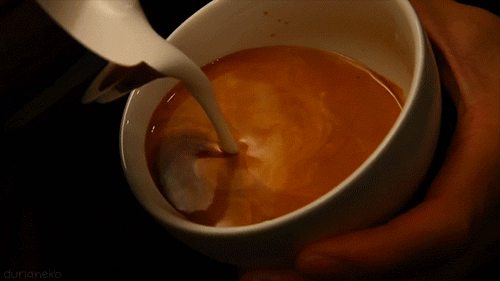 (via Giphy)
7. Hot Chocolate
Okay. Hot chocolate definitely holds its own throughout winter but it becomes appropriate again in Fall, which is amazing. Enjoy that chocolatey goodness that enriches your soul and brings you back to your favorite childhood memory of drinking the good stuff and wondering why life can't always be this sweet!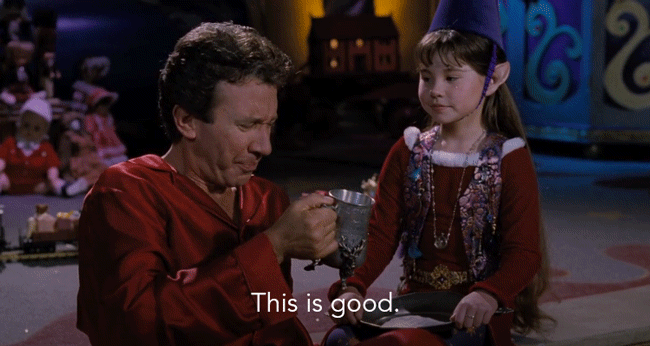 (via Walt Disney)
8. The Coziness Stars Align
Being cozy is no longer a coincidence–it's a MISSION. Seriously, everything about Fall is like the cozy warm-up to Winter. We start breaking out all the stops: fires, blankets, sweet scents, softer clothes, covering up, warm drinks–it's all about being cozy people! And there's nothing wrong with being kinda good at it.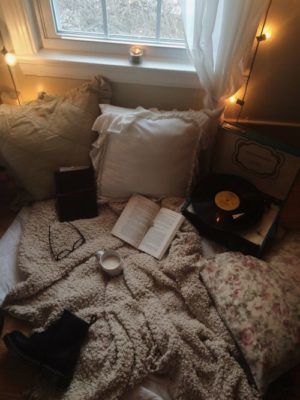 (via Bloglovin')
9. Scarves
To infinity and beyond! That added flare, the texture element, the warmth! Oh my. Scarves make a strong comeback in the Fall not just because our necks are cold, but because we love them. They add a sophisticated charm that comes across suave for men and fashionable for women. Who doesn't love that?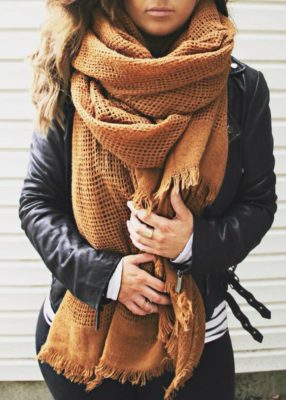 (via Shopstyle API)
10. Flannels
The classic, put-together feel of a button down relaxed with soft, warm plaid-patterned fabric that warms as its fashions. You could argue that flannels are a greater excuse to wear jeans than the denim jacket movement in the 80s (thank god). So be excited to channel your inner-lumberjack and look great doing it!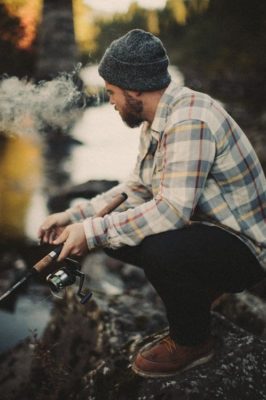 (via Pinterest)
11. Beanies
Some people will see a hat, but us beanie lovers see an opportunity to take an outfit to the next level and bask in our cozy headpiece. Not to mention they're super in right now and the styles are just great. Even the WORD beanie is fun to say. I mean, c'mon.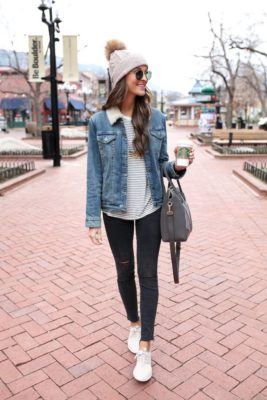 (via Pinterest)
12. Sweaters & Cardigans
Sweater weather comes in the Fall people! And with that weather comes sweater plays of all varieties. This means a variety of soft textures to play with; feeling comfortable, cute, and fashionable at the same time; and showing off your style while doing it.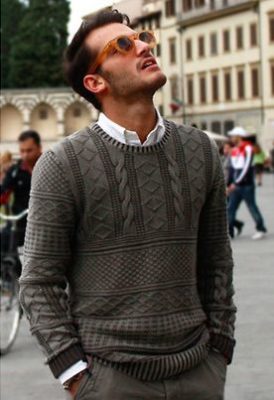 (via Street Style Market)
13. Boots
Fall means that boot season is upon us and all the fashion fun that comes with it. From over-the-knee, to the classic Timberland, to UGG, to booties and more!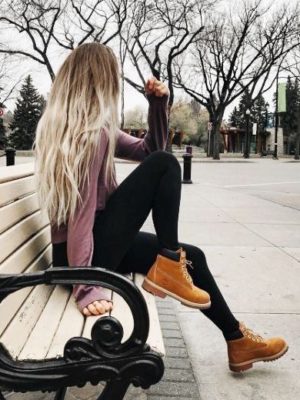 (via Pinterest)
14. Bonfires
There's nothing like getting the group together to sit outside in the moderate cold by something warm to enjoy the elements over some drinks. Bonfire season is one of our favorites because there's something so socially human about it. That even after thousands of years of building up all of our favorite cities (and blogs) and there's still something so great about hanging outside by a fire.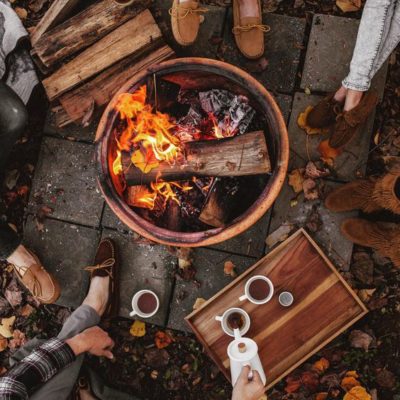 (via That Kind of Woman)
15. S'mores
Of course, you can't have a fire without S'mores! Gooey goodness that goes great with any fire to help everyone get in the spirit! NOM.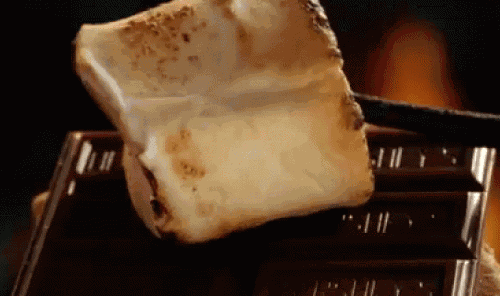 (via Giphy)
16. Haunted Houses
Who doesn't love running around a dark foggy abandoned piece of property with friends while creeps pop out of walls, ground, ceiling, and chase you? It's the perfect way to star in your own horror movie for a night and actually make it out alive! Call up the squad and lead the pack through the darkest HH on your side of the Mississippi this year.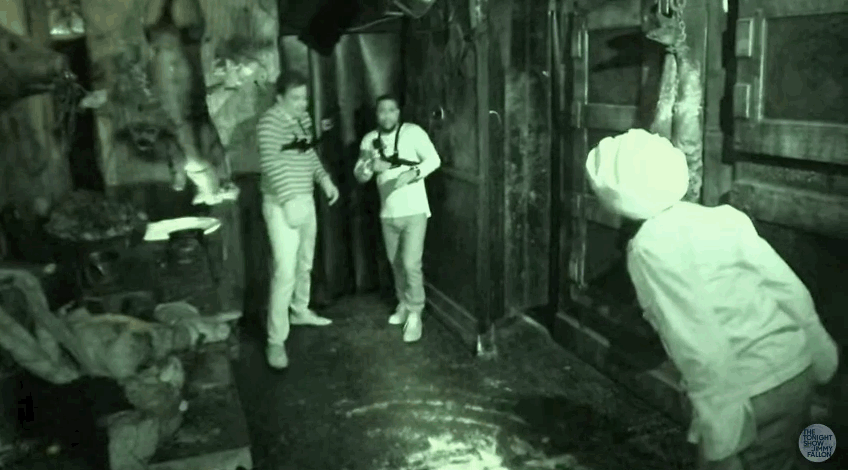 (via NBC)
17. Friday the 13th (if you're into that kind of thing)
Speaking of haunted, Friday the 13th in October is happening this year and if you're gonna go to a haunted house, let's be real, you should go on Friday the 13th to maximize it's spooky appeal. I mean… if you're into that kind of thing.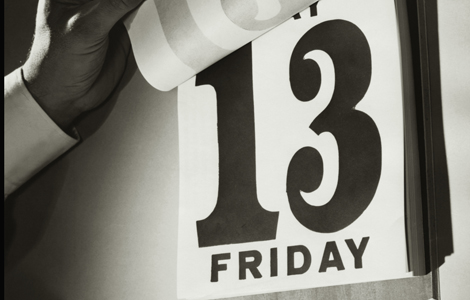 (via All Geek to Me)
18. Beautiful Foliage
We're at #18 and we haven't even actually mentioned what truly signals all of this amazingness to take place! The trees! If you're not in proximity to some serious mountain foliage it is SO worth it to take a trip up to the mountains with some friends and see this at its peak. One of nature's natural wonders for sure, and it makes for a great insta.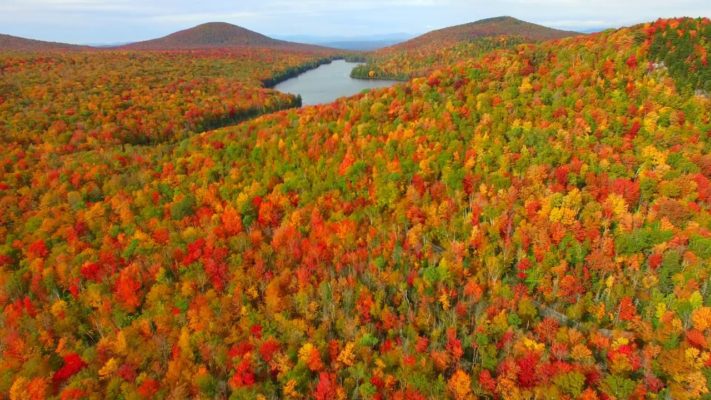 (via Green Mountain Drone)
19. Leaf Piles
Just a reminder that it's totally okay to be a 5-year-old again sometimes and rake a pile of leaves and then jump in. Seriously, for one thing it's multicolored bliss and on the other hand it means you're already raking leaves so you're being productive! (Pro Tip: Make sure they're YOUR leaves!)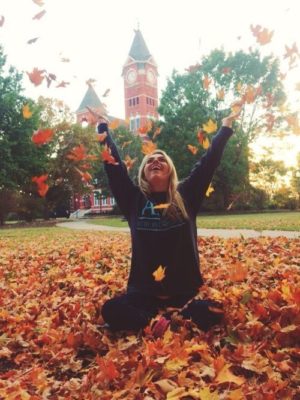 (via Keeping Cape Cod Classy)
20. Fall Festivals
Here's why these are really great, basically everyone gets together and tries to pull the community together to literally enjoy like everything on this list. Think fall-topia with a mix of your favorite slice of pie. Hayrides, pumpkin picking, all the treats, and a bunch of like-minded people who want to enjoy it too–what's better!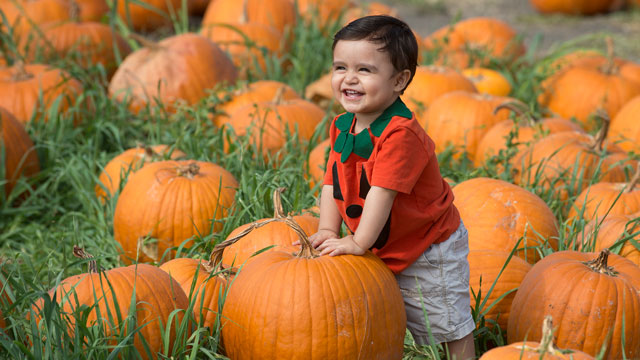 (via Polycentric)
21. Oktoberfest
A specific kind of festival aimed at celebrating the love of beer and German culture! A great time to get festive and cultured at the same time and enjoy a bratwurst and a cold beer outside on a brisk Fall day.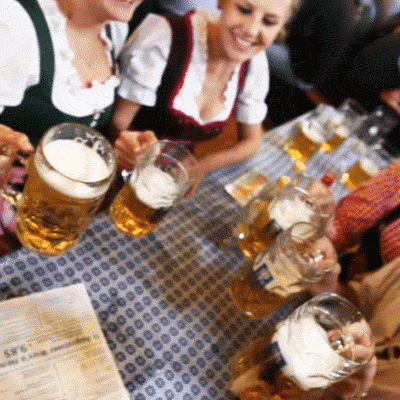 (via Giphy)
22. Decorations
The fringy hay, the browns, yellows, the oranges; (the tendency for people to put eyeballs on everything) The subtle incorporation of the Summers greens now turned an autumn shade, delicately spun together with earthy, rustic tones for an aged aesthetic that brings us back to our roots in the best way possible.
(via Kitchen Fun with my 3 Sons)
23. Squash Stuff
If you're the kind of person that enjoys squash all year round, we think that that's awesome! For the rest of us, squash emerges in our lives in the Fall. Truth is, pumpkin gets all the love, but these other guys are so much more exciting to have with you at the dinner table. Try out this recipe below: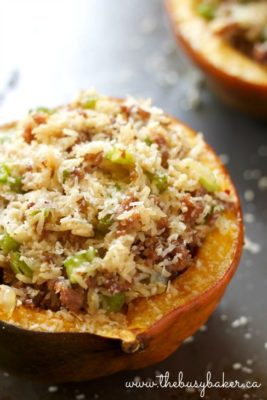 (via The Busy Baker)
24. Baskets Randomly Making a Huge Comeback…
Okay, we have to admit that this is really random. BUT, really think about basket usage and be cognizant of this going out into Fall this season, it'll be a BASKETDEMIC out there and you'll wonder where people put these things for the other 9 months of the year.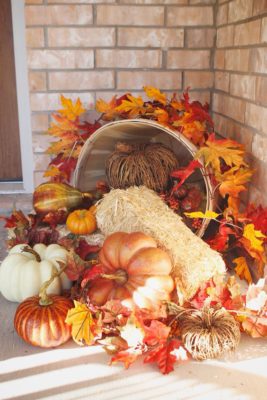 (via Decor Tone)
25. Breast Cancer Awareness Month
A great cause that doubles as a reminder that pink is important throughout each season. Also, a great opportunity to go out and get active in your community's charity efforts! #GoPink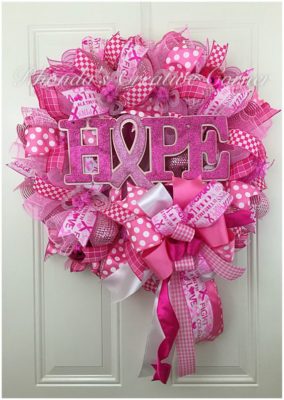 (via Etsy)
26. Kid's everywhere doing stuff like this: (pilgrims and indians)
With the advent of the argument of Columbus Day vs National Indigenous Peoples' day we're sure that small activities we grow up partaking in can get lost in the conversation. But somewhere this Fall, children will be doing stuff like this… We just couldn't have a piece about Fall nostalgia and leave this out.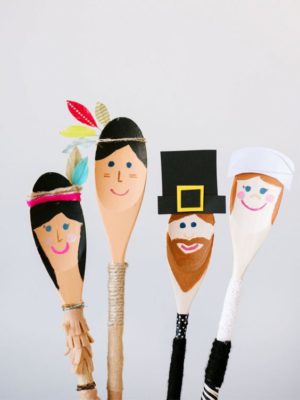 (via Be Crafty)

What's your favorite thing to do in Fall?

Comment below!